5 ways to advance your digitised supply chain
Blog
5 mins

At CORE, we define digitising as the transformation of applying technology to enhance supply chain performance by replacing manual processes and legacy IT systems. Processes are automated, visibility is integrated and decision-making is improved.
Many of our customers are already prioritising greater visibility and this is supported by a EY report that shows that greater supply chain visibility is in the top three priorities for supply chain executives over the next few years.
Whatever a business's future aspirations are, it is critical they make their data more readily available, by removing departmental and data silos, and advancing to a synchronised organisation with a shared "single view" of data. Businesses with digitised supply chains will gain a competitive advantage through more transparent, agile and predictable service delivery and lower costs. Here's five ways to advance your digitisation strategy. The full report is available here.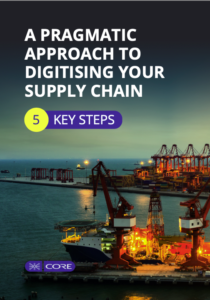 1. Skills and infrastructure in digitisation
Transformation to a digital supply chain doesn't happen overnight. It's important to take stock of existing skills, IT infrastructure and processes used currently to assess supply chain performance.
When choosing a supply chain solutions provider to support your business, choose a provider who has extensive experience of working with both large and small organisations across a range of industry sectors. A collaborative and practical approach earns trust early in the relationship. Ensure your provider has a history of delivering the right solution on time and within budget.
2. Metrics that matter
At the start of a transformation project set short to long term goals to measure impact. This will help you ascertain the relative benefits of investments and actions in the digital supply chain and enable you business to scale digitisation quickly knowing what works.
3. Set a clear, compelling vision for digitisation
Your vision must be ambitious, but achievable, and it must be integrated across the business. It should be specific enough to excite your colleagues and be informed by a strong understanding of where your company is heading. This will ultimately lead to transformation over your set timeframe.
4. Communication is key to transformation
Supply chain transformation requires the 'buy in' of a number of internal departments, legacy systems and external third parties. A successful transformation approach that aligns stakeholders and/ or navigates complex organisations, is to start small and then build on your success.
5. Understand and manage data challenges
Every organisation can claim to have some level of data. But what if you can't trust it?
Disparate data sources mean poor accessibility. In many businesses the information you need is located in many places and in different forms. Spreadsheets, the cloud, legacy systems, suppliers, third parties, probably too many sources of data.
Data latency can be a problem.
The implementation of a supply chain information management and visibility platform like Suppliview will provide a crucial 'single view of data' to make your organisation more synchronised and cohesive in its supply chain processes including understanding and managing crucial data collection.
Download our report 'A pragmatic approach to digitising your supply chain' and get in touch to discuss how our award-winning solutions can support your digitisation strategy.